Overview
This article explains the valuable features gained by using the paid editions of Blumira. General information about all of the Blumira editions is provided at blumira.com/pricing.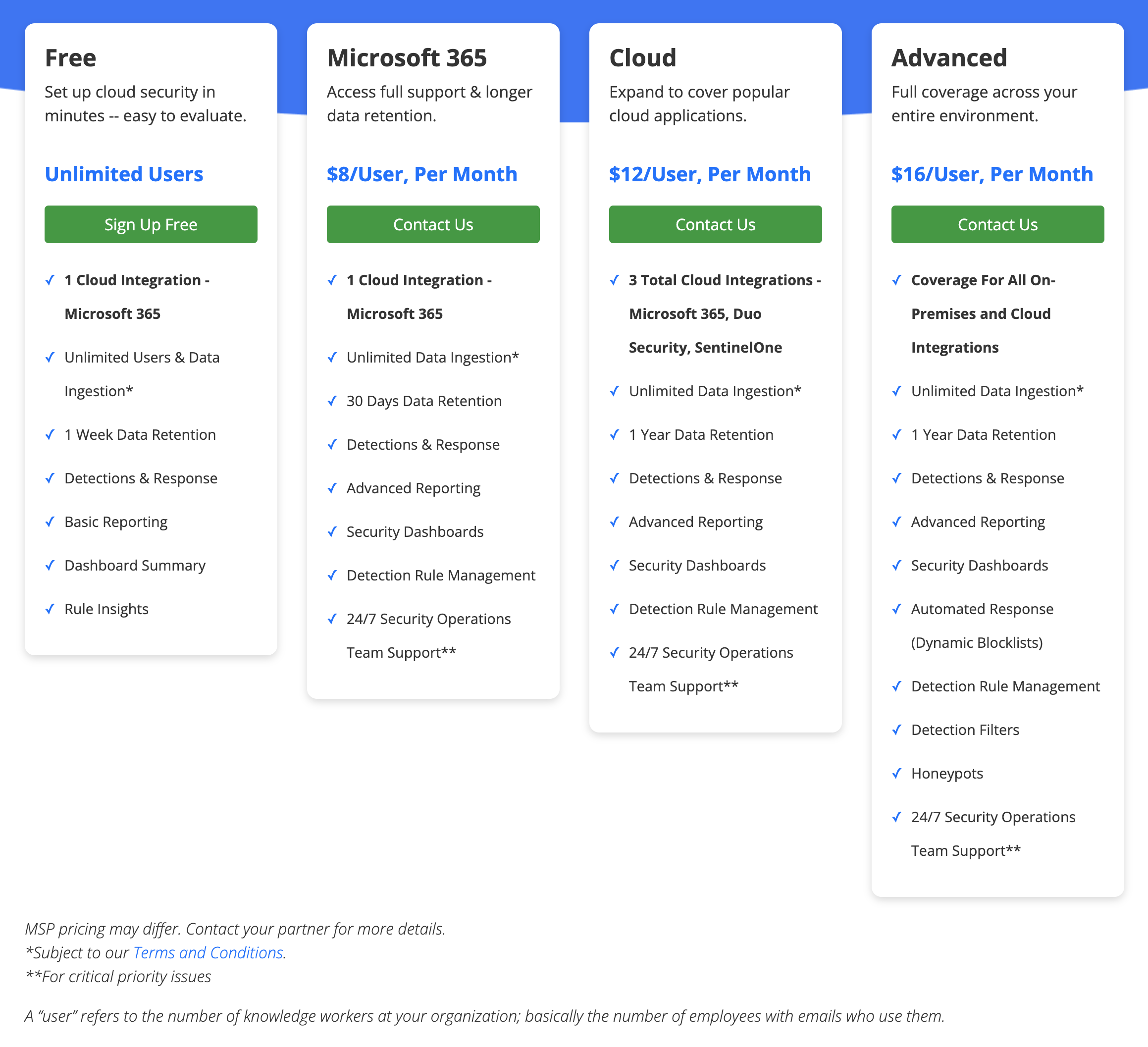 Note: The MSRP is not the partner cost. See MSP pricing for details about our MSP pricing tiers.
Recommended
The Advanced edition provides the most security coverage and capabilities.
Paid features explained
The table below includes more information about the features gained by using the paid editions of Blumira.
Category

Additional Features with Paid Editions

24/7 Security Operations and Technical Support

Product and security support. In addition to 24/7 security response help, the SecOps team can help you to customize your Blumira product experience with changes to dashboards, reports, and detections.

Additional operational dashboards that provide detailed insights to security and management teams.

Data retention

Longer periods of data retention:

7 days for Free edition

30 days for M365

1 year for Cloud and Advanced

With Advanced edition, you can add filters to customize our detection rules so that findings are not generated for known and safe conditions.

Detection visibility with details about each rule used for Blumira findings.

Enable/disable detections according to your or your customer's specific business needs.

Blumira's dynamic blocklists, an Advanced Edition Feature, help you to reduce your overall attack surface and can automate blocking of malicious sources by providing your next-generation firewall (NGFW) with a regularly-updated aggregate of blocklist and threatlist data.

The Blumira honeypot, an Advanced edition feature, deploys a fake NAS DiskStation into a container on your sensor. This provides enough functionality to catch most attackers who are not rather advanced, and it is especially protective against insiders who might be probing internally.

More integration options:

1 integration with Free and M365

3 total integrations with Cloud

All 60+ integrations with Advanced (see the full list of available integrations

here

)

Create custom reports and schedule reports to be delivered via email at a frequency of your choice.